J1 Program Open Recruitment Fair – July 29, 2022
July 20, 2022
Experience Abroad: J1 Program Open Recruitment Fair will be held this July 29, 2022, on-site at its main office in RCBC Plaza, Makati City, Philippines.
They are a J1 agency that brings and assists hospitality students and young professionals to the United States through the Exchange Visitor Program.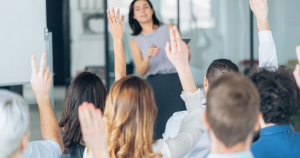 The event will be hosted by the one and only Founder and Executive Director, Noel Salo. Along with him are the members of his team, namely, Ariel Cinco, the Business Development and Recruitment Specialist, April Zamora, the Compliance Officer, Kris John Encomienda, the Marketing and Multimedia Communication Specialist, and Tomokazu Masuda, a Recruitment Intern.
What to expect at the recruitment fair?
As mentioned, you'll be able to meet the team behind the success stories of international interns and trainees.
Aside from getting to know the team better, you will also be oriented about the details and relevant information on the J1 program. This includes program requirements and qualifications, fees and payments, and partnered US hotels and resorts.
Interviews will be conducted after the orientation if applicants want to immediately start processing their applications.
A tour of the main office will also be given to give a glimpse of the workspace environment of Experience Abroad.
Why attend this recruitment fair?
If you dream to have your internship or traineeship held abroad, then this is definitely worth attending! Imagine, you can be an intern or a trainee in the hospitality industry, either in culinary, food and beverage, or front office, in prestigious and well-known US hotels and resorts for an entire year.
The recruitment fair will enable interested applicants to raise concerns and clarifications in real time and be answered immediately.
You will also be able to meet and acquaint yourself with fellow peers and interns. You'll most likely be with them during the entire duration of your Exchange Visitor Program.
The Exchange Visitor Program will allow you to acquire practical and international work experience and further enhance your skills. Along with propelling your professional career, you will also be able to share your culture with different foreign nationalities and be introduced to theirs as well, through their food, tourist spots, and traditions.
When and where will the recruitment fair be held?
The Experience Abroad Recruitment Fair will be held on July 29, 2022, from 10:00 AM to 12:00 NN, on the 30th floor in RCBC Plaza, Yuchengco Tower 1, in the heart of Makati City, Philippines.
What should I prepare?
You should prepare original and duplicate copies of your:
Resume

Diploma or school certificate

Transcript of records or summary of grades

Work certificates, if applicable.
With these documents, the team can process your application immediately.
If you're interested, you may register through our Google Forms here. Walk-ins are not allowed, due to Covid restrictions, so make sure to register before July 29, Friday.
Reach your American Dream with us here at Experience Abroad. See you at Experience Abroad: J1 Program Open Recruitment Fair!
Got Questions?
Visit our FAQ's page or email us at info@experienceabroad.com.