J-1 Testimonials: Jake Anthony Montolo
August 31, 2022
Jake was one of our first J-1 applicants when pandemic restrictions started easing.
He tells us about his application process through this testimonial.
---
Hello! I am Jake Anthony Montolo, and I will be having my training as a Front Office Butler in Rosewood Mansion on Turtle Creek in Dallas, Texas. This is my successful J-1 application story.
After attending Experience Abroad's J-1 orientation, I grew interested in applying for the program under their agency. I officially started my application journey last November 15, 2021, the date of my initial interview. Since then, I have felt their presence and help in reaching my dreams of being a trainee in the United States.
I was first endorsed to a different host company as a food and beverage trainee, but unfortunately, I did not make the cut. Even if I felt somewhat discouraged, that did not stop me from pushing through with the program.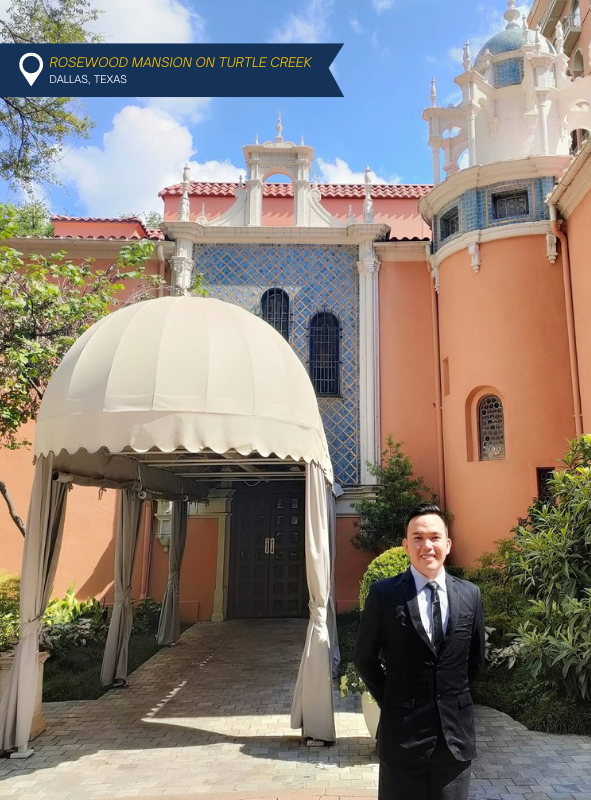 I stumbled upon one of Experience Abroad's Facebook posts, stating that Rosewood Mansion is hiring for front office positions which piqued my interest. I immediately messaged them, and they gladly endorsed me as one of the hotel's applicants.
Host Company Interview
The interview process with Rosewood Mansion lasted for two months. I had a chance to meet and talk with their HR manager, rooms division director, managing director, and regional director. Despite the long process, I am glad that I met my supervisors and managers. It allowed me to know more about the host company and the people I will be working with.
Visa Application
After the host company interviews, the process went very well. However, one exception was booking the Visa interview schedule. I intended to set an appointment with the US embassy during the first quarter of 2022 but the sudden influx of visa applicants made it impossible for me to book at an early date. The next available date was already in August, which is why I had to wait a long time before actually going through the interview.
While waiting for my embassy appointment, I had one-on-one Visa coaching with Experience Abroad. They shared and taught me all the possible questions and information that might get asked. They also highlighted that I should weigh the questions accordingly and that I need to determine which questions I can possibly further explain. It is more like hitting two birds with one stone. 
Visa Interview
On the day of my visa interview, I didn't really expect what the embassy looked like and how the interview process would be. I thought it would be similar to a normal job interview, but I was wrong. I went inside the embassy, and I saw a lot of applicants applying for different visa categories. I checked my documents and registered once I entered. After doing so, I was assigned to window 27, and the applicants ahead of me were mostly denied. I saw most of them leaving with blue paper, which means they did not meet the requirements of obtaining a Visa. It was nerve-wracking, but I conquered it with faith and trust in myself. And there, I passed the interview! I was very ecstatic, and I could not believe that I made it.
Now that I'm nearing the start date of my program, I can't help but feel nervous. This will be my first time flying to the United States, and I will be faced with a new environment and culture. I also know that this is a once-in-lifetime opportunity that not everyone has the chance to receive, which is why, at the same time, I feel very excited! I look forward to a fruitful and fun experience with this program. Hopefully, I could gain and hone the skills and qualities that can be of great help in my future endeavors.
I'll be arriving in the United States on August 22 of this year, a bit earlier than the start date of my program. I would first want to roam around the downtown area and dine in one of their well-known restaurants before formally starting my traineeship. I'll be touring with a fellow intern, which will make the experience more fun and memorable.
The entire process was so smooth and well-organized. Along with it, I learned that patience is truly a virtue, as it was not as easy an application as I expected it to be. I've had four interviews with Rosewood but I can definitely say that it was all worth it. It made me realize that I have to be willing and eager to learn because we certainly do not acquire all the knowledge in the world at once. I also ventured myself to always have courage and be kind.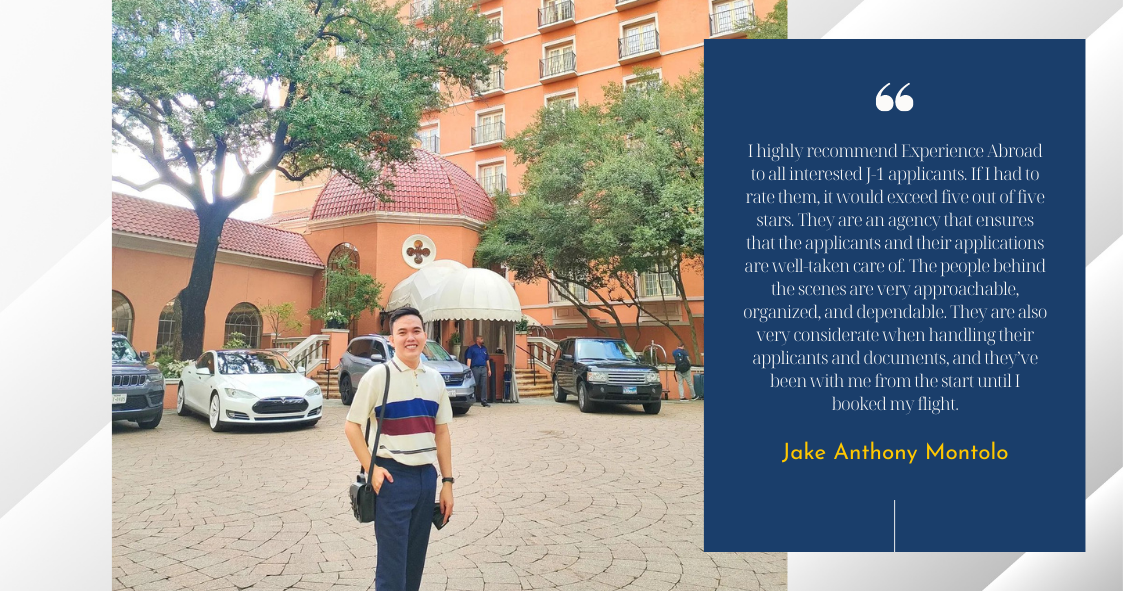 With that being said, I highly recommend Experience Abroad to all interested J-1 applicants. If I had to rate them, it would exceed five out of five stars. They are an agency that ensures that the applicants and their applications are well-taken care of. The people behind the scenes are very approachable, organized, and dependable. They are also very considerate when handling their applicants and documents, and they've been with me from the start until I booked my flight.
Before applying under them, I canvassed and looked for other local agencies in the country. I am confident that I chose the best agency that helps applicants have a successful J-1 application. I will ensure that I'll keep in touch with Experience Abroad even after I fly out to the US.
Got Questions?
Visit our FAQ's page or email us at info@experienceabroad.com.