J-1 Testimonials: Nicolle Fiona Gordillo
September 14, 2022
Fiona recently flew to the United States to start her J-1 internship program. Here is her successful J-1 application story.
---
Hello! I am Nicolle Fiona Gordillo, and I will have my training as a Front Desk Intern in Rosewood Mansion on Turtle Creek in Dallas, Texas.
As a fresh graduate, I wanted to enhance my skills and prepare myself for the real world. Because of that, I applied for a J-1 internship program with Experience Abroad, which was recommended to me by a friend. Although at that time, it was still a new company, I trusted them, and I'm glad to say it paid off in the end.
Host Company Interview
I had my initial interview with Experience Abroad last October 28, 2021. After passing that, I was immediately endorsed to a hosting company as a front office intern, but I felt they were hard to reach and contact. Because of such, I was endorsed to a different host company, specifically at Rosewood Mansion, with the same position as a front desk intern. Fortunately, the hotel found me as someone they would like to work with and offered me the position. I had around two or three interviews with the hotel managers and supervisors, as I will have different rotations and assignments when I start my J-1 internship program.
My supporting documents were immediately processed after, like my training plan and DS-2019. I also got interviewed by my assigned visa sponsor because they wanted to get to know me better– what my plans are after the internship, my previous work experiences, and other personal and professional details.
Visa Application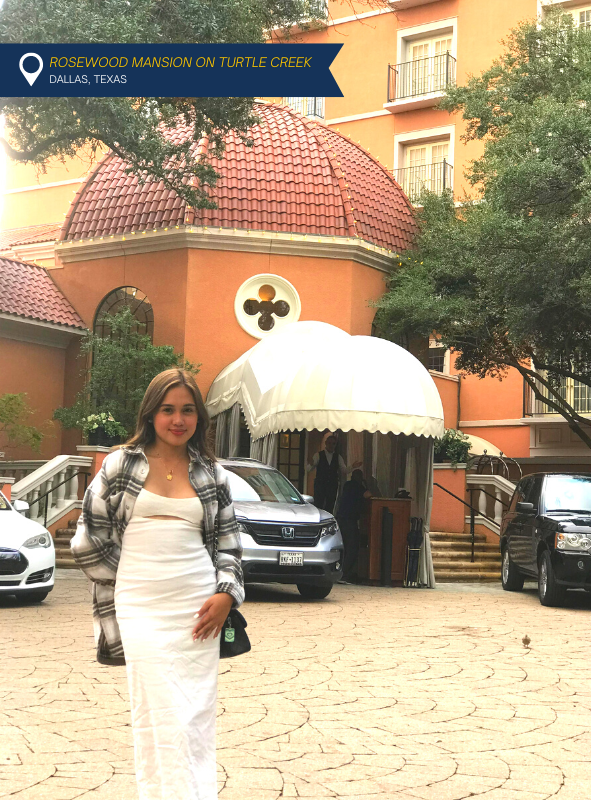 After all my visa sponsor documents were finalized and provided, it was time for me to book my US embassy appointment. I was supposed to have it during the first few months of the year, but the sudden increase in the number of international flyers made it difficult for me to find an early date. The unfortunate circumstance led me to have my interview later in the year, just last July.
On the day of my appointment, I felt very anxious from the moment I left my house until the time I arrived. It was a huge deal to me since it determined whether I can officially join the internship program in the US. When I entered the embassy, I had to register by showing my visa documents and scanning my fingerprints. After that, I lined up and had the interview proper with the consular officer.
Based on my experience, it's really important to give straightforward answers and deliver them with confidence. Although I found myself stuttering a few times because I was nervous, I still continued on and ensured that I answered the questions properly.
After a few questions, the interview ended with the words, "okay, you will have your visa in two weeks from now, so let's wait for it first." Words couldn't describe how I felt during that time. It felt surreal that my prayers were answered and my dreams were coming to life.
When I went home, I immediately booked my flight for August 15, 2022. On the days leading up to my flight, I felt anxious because I'll be leaving my country to live in a new foreign environment. However, my nervousness and worries went away when I realized how exciting this opportunity is. The internship program will help me gain more advanced skills and training, and I am excited about where it will take me in the future, career-wise.
Once I arrive in the United States, I look forward to touring Texas and getting to know its people, culture, and history. Coincidentally, I will also be celebrating my birthday, so I plan to eat dinner with my fellow interns and trainees in one of their well-known restaurants.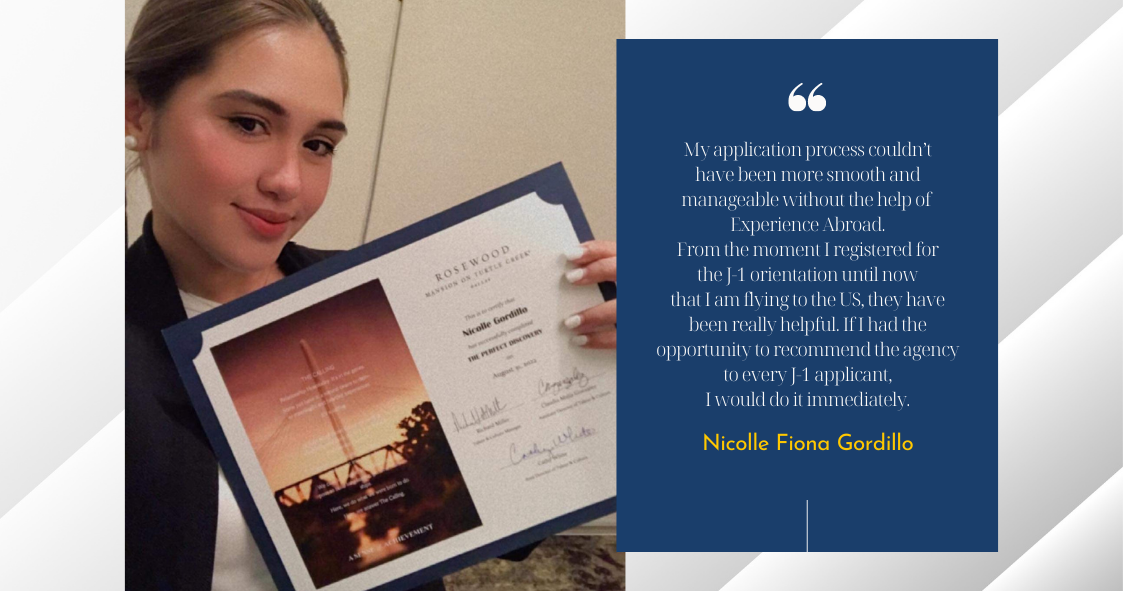 My application process couldn't have been more smooth and manageable without the help of Experience Abroad. From the moment I registered for the J-1 orientation until now that I am flying to the US, they have been really helpful. If I had the opportunity to recommend the agency to every J-1 applicant, I would do it immediately. It could be as small as asking questions about the program or as big as looking for possible housing in the US, just know that Experience Abroad will always be more than willing to help. 
Got Questions?
Visit our FAQ's page or email us at info@experienceabroad.com.